Welcome to Forestdale Veterinary Clinic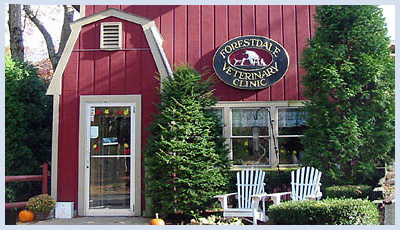 Veterinary Associates of Cape Cod owns and operates the Forestdale Veterinary Clinic, a wellness clinic on the upper Cape (located at the Animal Inn Boarding Facility) that serves pet owners in Forestdale, Sandwich, Marston Mills, Mashpee and the Camp Edwards area. The doctors provide high-quality wellness care for small animals and some exotic species in this friendly clinic environment.
In the event that any Forestdale patients need advanced medical assistance, they are transferred to Veterinary Associates for continued care. Our hospital databases are always connected, so we can access a patient's entire medical chart from either location, providing the best of both worlds of veterinary care for our upper Cape patients.
The Forestdale Clinic now offers evening appointments - please see the new hours listed below. For patients requiring Saturday appointment options, please refer back to Veterinary Associates of Cape Cod.
If you are a new client, please print our New Client Information form, fill it out and bring it to the clinic at the time of your appointment.

New Client Information Sheet
You must have Adobe Acrobat Reader installed to view the PDF file indicated by the

icon.
If you do not have Acrobat Reader, you can download it for free by clicking here.