Newsletter
The veterinarians and staff at the Forestdale Veterinary Clinic are pleased to provide you with an online newsletter. This fun and fact-filled newsletter is updated on a regular basis.
Included in the newsletter are articles pertaining to pet care, information on our animal hospital, as well as news on the latest trends and discoveries in veterinary medicine.
Please enjoy the newsletter!
Current Newsletter Topics
Choosing the Right Name for Your Pet
Choosing the Right Name for Your Pet
You've just picked up your new forever friend and you aren't sure what to name him or her. We've all been there – the name is an integral part of your relationship, so you don't want to pick just anything.
Picking the Right Pet Name
You might be surprised to know that about half of the pet names end up being a human name or some form of it. That's because people tend to call their animals what they would name themselves. Another fifth of the names relates to their personality or appearance. That's why you get Fluffy or Spot.
More Tips for Picking the Perfect Name
Here are some more tips if you don't like those ideas.
Pick something easily recognizable. One or two syllables seem to work best.
Don't forget that you'll have to yell this name at the park; don't pick something embarrassing.
Avoid any name that sounds like a command. For example, you wouldn't want to name the dog Joe because it sounds like No.
Instead of choosing a long name, shorten it. Chances are you'll use the shortened version anyway.
Use the heritage to make your name. For example, stick with a French name for Poodles or an Irish name for a Setter.
Watch the animal for a few days to make your decision. Sometimes, it just takes some observation of their appearance, behaviors and personality.
Pick a name that grows with them. You won't want to name your dog "Puppy."
Be Unique
Fun in the Fall – Activities in Autumn With Your Pet
Fun in the Fall – Activities in Autumn With Your Pet
As the leaves begin to change colors and the weather turns cooler, there are lots of activities to enjoy with your pet. Don't go alone – bring your best friend with you.
Go to an Apple Orchard
Apples are ready to be picked, so you'll find an abundance of apple orchards to visit. Most of them allow dogs and it's a great way to enjoy the weather together. Apples are a great treat for you to share with your pet as they clean your dog's teeth and make their breath fresh. Just be careful with the core and seeds because they are a choking concern and toxic.
Go Trick-Or-Treating
Halloween isn't just for kids – your pet looks adorable dressed up. Head out with the kids and your pets to do some trick-or-treating. Carry some extra treats with you for other animals along the way.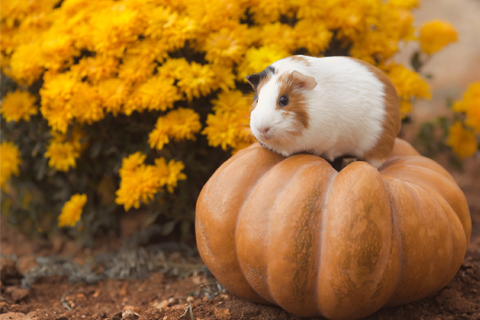 Pumpkin Picking
Just like apple orchards, most pumpkin patches don't mind dogs. Who knows – your dog might just have an eye for the best pumpkin in the patch. When you are ready to sit down to some homemade pumpkin pie, don't forget your dog. They can have a small amount of pumpkin puree in their food. It's great for their digestive system and offers lots of fiber.
Tailgating
With football season getting into full swing, you are sure to be invited to a tailgating party. Of course, your pet will be the hit of the get-together, so be sure to bring them along. Don't forget their favorite toys and food as well.
Take a Hike
Exercise is great for you and your dog, so why not do it together? While your dog won't see all the colors, they will recognize the different smells and activity. Look for some local events that you and your dog can walk in together as well.
Final Thoughts
Whatever you do this fall, make sure you include your pets. They deserve to enjoy the magic of the season change with you. Get outside and enjoy the fresh, crisp weather while you can.
Dog Park Etiquette – What You Should Know
Dog Park Etiquette – What You Should Know
If you live in an urban or suburban setting, chances are that you've visited a dog park. These set-apart areas offer a mini-kingdom for your pooch to play unrestricted. They have the freedom to explore, run, socialize and sniff at will.
Just like any public activity, there are some basic etiquette rules that need to be followed to keep peace and order. When you visit the dog park with your best friend, be sure to keep everyone safe and happy by following these guidelines.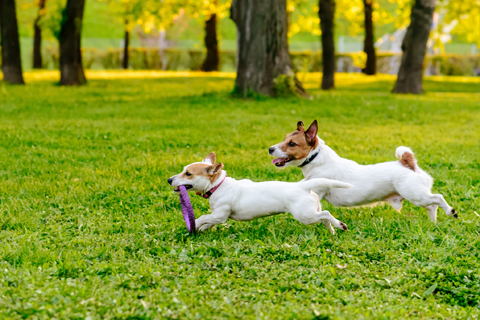 Basic Dog Park Etiquette
If your dog is acting ill or has any symptoms, you shouldn't take them to the park. Just like you wouldn't want your dog to catch something contagious, you owe the other pets the same respect.
It's wise not to take a puppy that is younger than four months old.
Don't take your female dog if she is in heat.
Don't allow your dog out of your sight. You must ensure that your pet doesn't become aggressive with another animal.
Pick up after your dog.
Don't bring food for your dog or yourself; save it for afterward.
Travel with your own portable water bowl for your dog to refresh themselves. Don't use the water bowls located in the park as they often carry communicable diseases.
If you have a small dog, stay in the section designated for you. Even if they prefer to hang out with larger dogs, this is the safest place for them to visit.
Take a ball (or two) with for fun, but don't be upset if it gets lost.
Don't be afraid to intervene in any dog play that becomes too rough.
Above all, make some new friends and allow your dog to do the same. The dog park is meant to be an enjoyable experience, and it will be with your adherence to the guidelines.
Exercises You Can Do With Your Pet
Exercises You Can Do With Your Pet
Your best friend might also make a good workout buddy. If you regularly walk your dog, you probably get more exercise than most. What many people don't realize is that activity is just as crucial for your pet as it is for you. Here are some moves you can do together.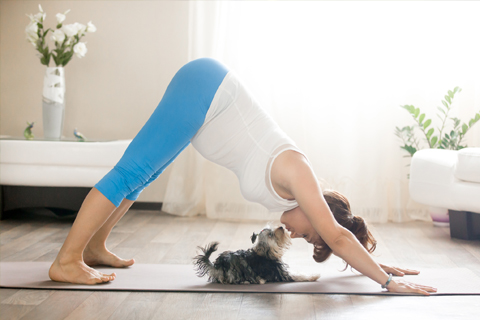 Warmup
Start your workout routine by putting your dog on a short leash and power walk with them for about two minutes. Once you've gotten used to that, move up to a light jog for another two minutes.
Then, stand in one place and do arm circles, leg stretches and shoulder shrugs to warm up your muscles.
Exercises
Work your glutes, quads and hamstrings by standing against the wall with your feet shoulder-width apart. Make sure you push your shoulders, lower back and hips into your wall. Then, start to walk your feet as you allow your upper body to sink down to the floor. Go down until your knees are at a 90-degree angle. Hold in place for at least a minute. Then, start to come back up slowly. Repeat the action several times.
Find a set of stairs to burn calories, strengthen your legs and boost cardiovascular endurance. Make sure the stairs contain at least 20 steps so you can keep up a steady pace. Take your dog up and down as many times as you can, resting in between each set.
Cool Down
Take a slow walk when you are done and remember to stretch out those muscles yet again. Grab a nice big glass of water and don't forget to hydrate your best friend as well. As you continue working out together, you'll find that both of you get stronger and can endure longer sessions of exercise. Continue to increase your time and intensity as you enjoy these valuable moments together.
Hospice Care: What You Should Know
Veterinary hospice care is defined by the American Veterinary Medical Association as "care that will allow a terminally ill animal (with a short life expectancy) to live comfortably at home or in a facility." Hospice care is typically sought when nothing else can be done and will end with either a natural death or humane euthanasia. The care is centered around keeping your pet comfortable and sanitary during his or her final days, rather than on treatment, diagnosis, or cure. More specifically, it will address your pet's appetite, happiness, hydration, hygiene, mobility, and pain.
The hospice team will consist of your veterinarian, his or her trained staff, and you. Although you will have the guidance and expertise of professionals, much of the care for your pet will often be provided by you and your family. It is important to consider your comfort level with this and discuss your role with your veterinarian ahead of time.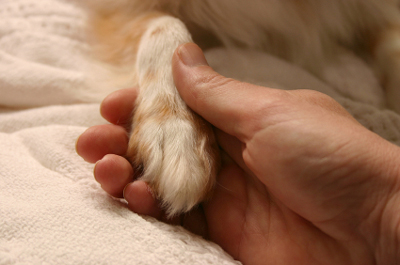 Veterinary hospice care typically includes:

• Implementation of a hospice care plan
• Education about the end-stage disease/illness process
• Pain identification and treatment
• Supplementary nutrition and fluids
• Management of incontinence
• Bandage and wound care