Newsletter
The veterinarians and staff at the Forestdale Veterinary Clinic are pleased to provide you with an online newsletter. This fun and fact-filled newsletter is updated on a regular basis.
Included in the newsletter are articles pertaining to pet care, information on our animal hospital, as well as news on the latest trends and discoveries in veterinary medicine.
Please enjoy the newsletter!
Current Newsletter Topics
Health Benefits of Pet Ownership for the Elderly
The link between good health and having pets in the home has been well established by multiple studies and is noted on the U.S. Centers for Disease Control (CDC) website, among other places. Additionally, these health benefits are not just limited to families with children.
The CDC and numerous studies conducted by a wide range of organizations have shown multiple physical and mental health benefits for the elderly who keep companion pets. For example, PAWSitive Interaction, a nonprofit group dedicated to better understanding the positive impact of the human/animal bond, produced a white paper titled Pets and The Aging: Science Supports the Human/Animal Bond. The paper brings together experts in this field as well as scientific research to more fully explain the benefits to the elderly of pet ownership.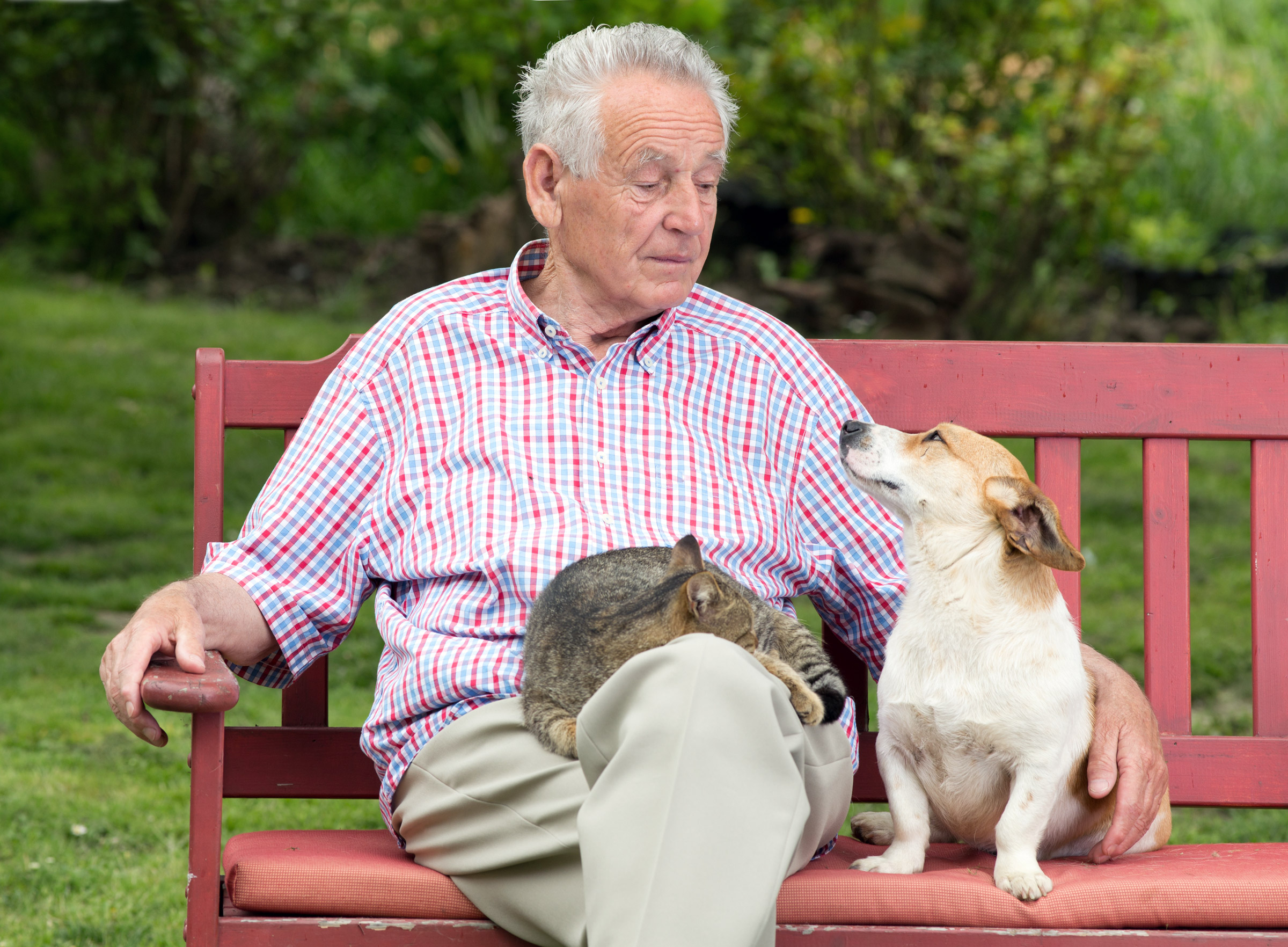 Health benefits include:
• Lower Blood Pressure – Studies have shown that when pet ownership is combined with medication, blood pressure is more easily controlled than in populations that use medication alone.
• Reduced Depression – Simply spending time with a pet dramatically increased production of hormones in the body that regulate well-being and happiness. Production of hormones that are related to stress and anxiety decreased as dramatically.
• Decreased Loneliness – It is common for the elderly to be and feel isolated from the rest of the world. However, having a pet and taking care of it provide reasons for a person to become more engaged with life. They get out for walks more and come into contact with a wider range of people. This in turn acts as a social catalyst between peers and others. A pet also is a companion and provides a sense of responsibility and well-being.
• Increased Heart Attack Survival – One study showed that heart attack survivors who have a pet are four times more likely to live another year or longer.
• Improved Alzheimer's – A Purdue University study found that the presence of aquarium fish has a calming effect and increased appetites at meal time.
Other studies have shown:
Improved Personal Care – Pets act as something of a personal alarm clock to remind the person to care for him or herself in terms of hygiene as well as reminders when to eat (e.g. feed the pet at the same time as dinner).
Regular Exercise – Taking care of a pet, especially a dog that needs to be walked or an animal that responds to play can help seniors get out for regular exercise through walking. This also provides an opportunity to interact with other pet owners as well as neighbors and friends.
Touch – People respond positively to and need regular touch. A pet such as a cat curled up in a lap or dog lying nearby can be very reassuring and relaxing to an older person as well as provide a sense of security.
We could go on, but the bottom line is that a companion pet—whether a bird, cat, dog and so on—can be as much a source of good health and vitality for the elderly as it would provide love and companionship.
Take Your Dog to Work Day is Friday, June 23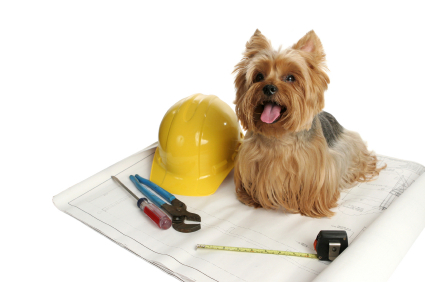 Initially celebrated in 1999, Pet Sitters International's Take Your Dog To Work Day® (TYDTWDay®) was created for two reasons: first, to celebrate dogs' innate virtues of loyalty, love and dedication to their human companions, and second, to encourage canine adoption from rescue shelters, humane societies and breed rescue clubs. This year, the annual event occurs on Friday, June 23 and employers are encouraged to support TYDTWDay by opening their workplace to employees' canine friends. Participation will create an immediate "feel good" workplace environment and allow your staff to meet each other's special family members.
Looking for additional ways to celebrate and support this popular day?
- Solicit photos and designate a bulletin board for a "Dog/Owner Look-Alike Contest"
- Host a Pet Fair. Provide ASPCA or shelter materials and client educational materials regarding dog adoption, preventive care, training, diets, etc.
- Award a "Top Dog" honor, which employee's dog can do the best trick, has the cutest face or the most endearing personality?
So don't let sleeping dogs lie. Win over your employees and your clients by participating in this fun annual event and watch as wagging tails spread office joy.
Clipping Your Pet's Nails
Pet owners vary in their level of comfort in clipping the nails of their dog, cat, rabbit or bird. But it is necessary to regularly clip nails to help maintain health and comfort. Nails which are uncared for can break or tear, and can affect the animal's ability to move about comfortably or cause the animal to injure itself when scratching. If you are uncomfortable clipping the animal's nails yourself, your vet or groomer can do this for you.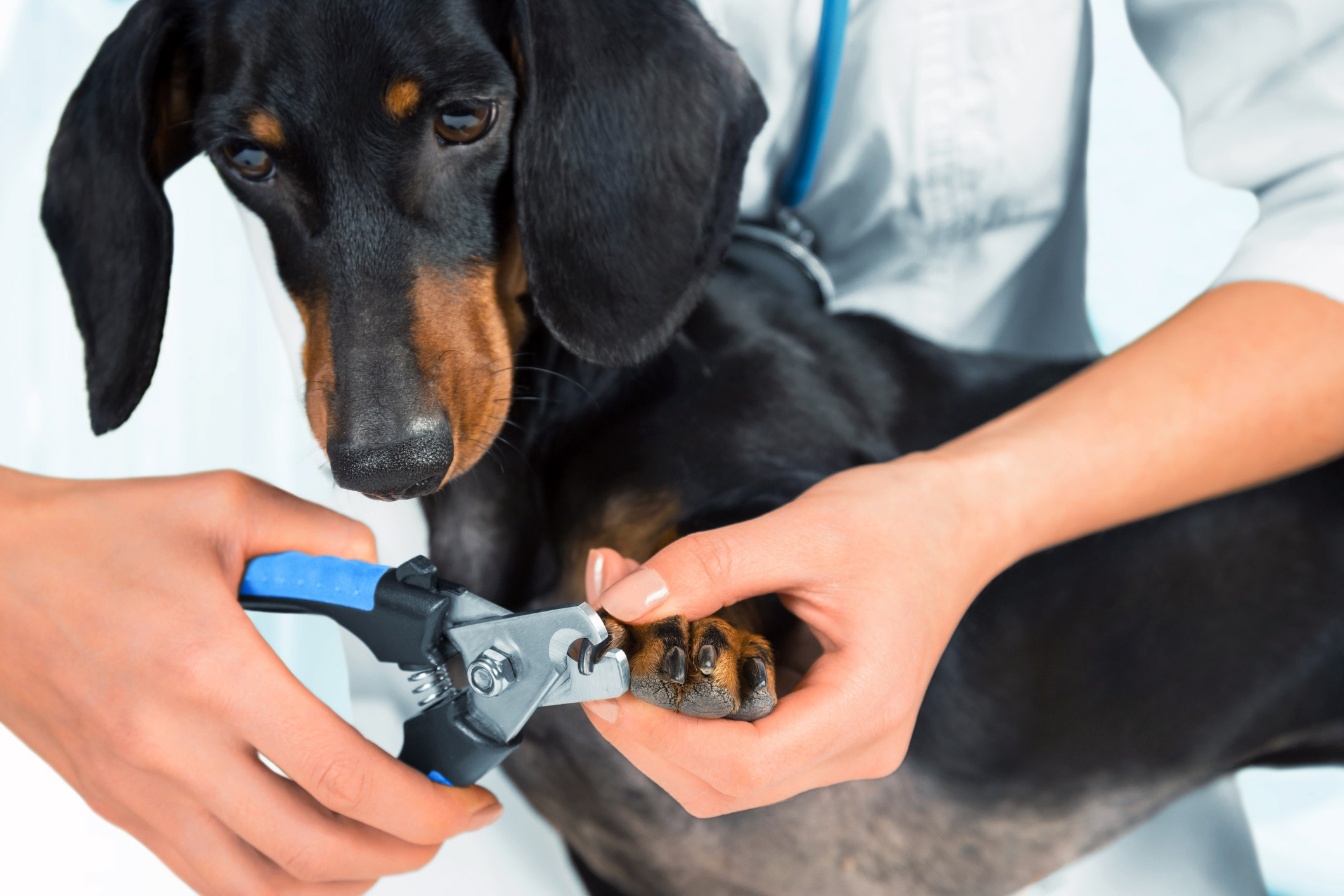 If you decide to do it yourself, here are a few tips:
• Remember, the nail is living tissue. Do not clip too close to the quick. If this occurs, the animal will experience pain and the nail will bleed.
• There are two types of nail clippers available: the scissor type (which resembles a traditional scissors) or the guillotine type (which surrounds the whole nail). Both are effective. Choose the one that is most comfortable for you and your pet.
• Many animals resist nail clipping. One way to get them accustomed to it is to handle their paws or feet from a very early age.
• Maintain your pet's nail clippers so that they're sharp. A dull blade and crush and fracture the nail, which is painful for your pet.
June is Adopt-A-Cat Month - Here's How to Find the Right Purring Companion
You may have heard the saying, "You own a dog, but you feed a cat." It is true that cats value their independence a bit more than their canine counterparts. But, if you've ever been around cats, you already know they crave and require love and companionship. Cats make wonderful pets and most easily adjust to a variety of lifestyles and living spaces. Every cat is a true individual though, so it's important to take the time to choose a four-footed friend who's right for you. A cat's personality, age and appearance, as well as the kinds of pets you already have at home, are all things you should keep in mind when making your selection.
If you've ever been to a shelter, you have probably noticed that some cats meow and head butt the cage door while others simply lie back and gaze at you with a look of total ambiguity. There are as many different personalities of cats as there are cats in the shelter. Which disposition is best for you? YOU have to decide.
Regardless of individual personality, look for a cat that is playful, active, alert and comfortable while being held. At the shelter, ask an adoption counselor for assistance when you wish to spend some time with individual cats. Because they are in an unfamiliar environment, some cats that are usually quite social may be frightened or passive while in the shelter.
As a general rule, kittens are curious, playful and full of energy, while adult cats are more relaxed and less mischievous. Kittens also require more time to train and feed. Cats are only kittens for a few months, though, so the age of the cat you adopt should really depend on the level of maturity you are looking for. Young children usually don't have the maturity to handle kittens responsibly, so a cat that is at least 4 months old is probably the best choice for homes with young children.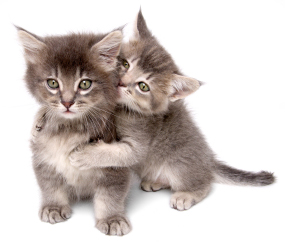 They All May Be Cute, But Which Is Right For You?
Though dogs also have differences in coat, choosing the length of coat on a cat is a little different. Because the hair is generally finer and cats generally shed more, hair length can be an important part of your decision. Cats can have long, fluffy coats or short, dense fur and the choice between the two is chiefly a matter of preference, availability and your willingness to devote time to regular grooming. Short-haired cats are generally easier to come by since they're the most popular and the most common. Keep in mind that long-haired cats require frequent grooming to remain mat-free. Felines with short coats also require brushing, though less frequently. Most cats enjoy a regular brushing and look forward to this daily ritual.
If you already own a cat or dog, you're probably wondering how easy it is to add a cat to the family. The good news is that cats can get along with other cats, and despite the common stereotype, most dogs can get along with cats too. Unfortunately, introducing a new cat to a home with other pets can be time consuming and require patience on your part.
The best way to handle adding a new cat to the home is to provide time for a period of adjustment. You can do this effectively by isolating your new feline in a room of his own for a while, something that is a good idea for a new cat anyway. After several days, supervise meetings between the animals for periods of increasing length. Most cats will soon learn to accept each other. Some dogs simply won't tolerate the presence of a cat, but by carefully introducing them, most problems can be solved.
No matter which kind of cat you choose, remember that you're making a commitment to love and care for your new feline friend for his or her lifetime. That could mean 10, 15 or even 20 years. So choose you new companion carefully and be a responsible pet owner. In no time at all, you'll know how wonderful sharing your home with a cat can be.
For more information about Adopt-A-Cat month, please visit the American Humane Association's website.
Gourmet Pet Food Market Takes Off

As more people turn healthier eating habits, so do their pets. Take into a account that over half of American households own a pet, this creates a huge market prime for a gourmet pet food takeover.
Gourmet dog food typically contains certain key ingredients, such as potatoes, fiber and bananas, which work as natural preservatives. But of course, chemical-free, natural products come at a cost. Just as people spend more on their own healthy meals, this is also the case for Fido's dinner. However, many pet owners are experiencing benefits that justify the more costly natural alternatives, such as improvements in their animal's health and coat.
Although natural pet food is on the rise, choosing the pricier gourmet or natural products is still far from the norm. All-natural dog food is estimated to represent approximately 10 percent of the $19 billion pet food industry, and 5 percent are chef-inspired pet foods. A smaller portion is claimed by human-grade pet food, which is good enough for both the dog dish and the table. Honest Kitchen is the biggest pet food company to claim human-grade status, with a 4-pound box of "Love" (a grain-free, Dehydrated hormone-free beef dish that makes 16 pounds of food) selling at $47.
However, if you're looking to go natural, human-grade status is not the only way. In fact, many well-established brands, such as Fromm, Merrick and Purina, as well as newcomers like Petropics, Blue Buffalo, Weruva, Petite Cuisine and Stella & Chewy's, each present various natural or gourmet options for your dog or cat. So go ahead, spoil little Spot, he deserves it!